Nigerdock Shipyard
Lagos ( Snake Island)
Floating dock
Roman Kinda and Vice President
Admiral Akhibe during
shipyard opening ceremonies
New construction halls Nigerdock II
Roman Kinda at the opening ceremony
shipyard with the participation of Vice President Admiral Akhibe.
The shipyard was adapted to the needs of the oil extraction industry, which was dynamically developing in West Africa. The project started with soil reinforcement by driving 3,500 piles to lift and move structures weighing up to 1,600 tons. Large halls for the assembly of structures for the mining industry were built in the area prepared in such a way.
Structures 140 meters long and 40 meters wide can be built in the halls, which are then moved to the quay and introduced to the 120-meter floating dock built at the Gdańsk Repair Shipyard in Poland. The shipyard, thanks to equipping it with the most modern technological solutions and providing its employees with a very high standard of work, clearly differs from similar enterprises in African or Asian countries. NIGERDOCK is recognized in 1998. by the Nigerian government for the country's most modern technical undertaking. However, for Poland it was one of the most important investment projects in Africa at that time.
Floating dock launch
built for Nigeria at GSR

Roman Kinda and
Piotr Soyka with the godmother of the dock
The experience gained both under this contract and the previous ones made Navimor International an expert in operating on the African market and is among the small group of Polish companies best prepared to operate in Africa. The NIGERDOCK project was also the beginning of a very fruitful cooperation between Navimor Int. And the GDAŃSK REPAIR SHIP.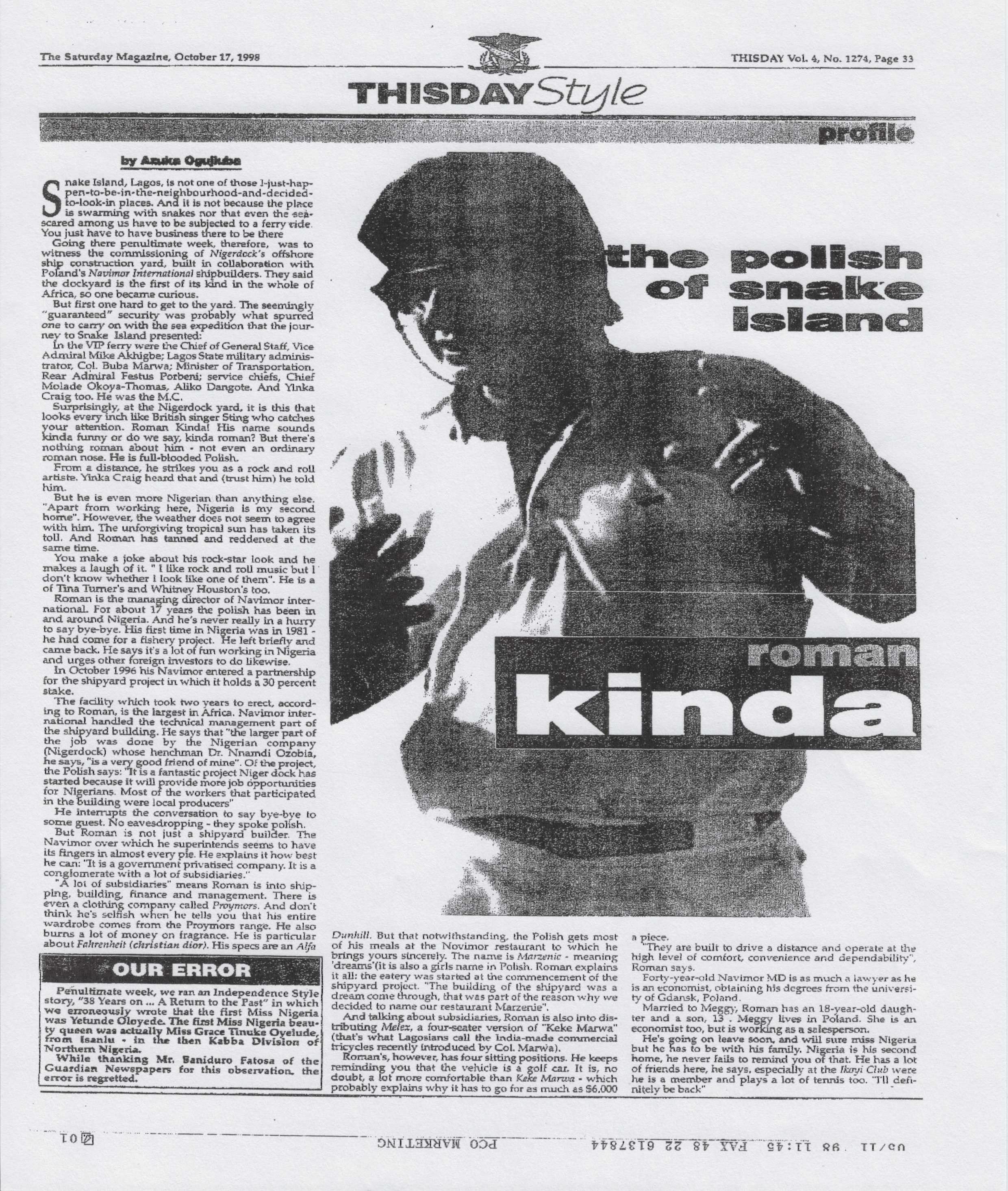 The article 'Roman Kinda the polish of
snake Island ', THISDAY
Magazine, October 17, 1998, Lagos